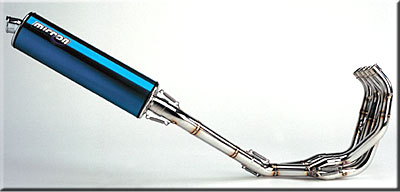 SYSTEMS

Micron's long history of World and National Championships are the result of our meticulous attention not only producing the highest horsepower available, but also crafting the finest quality products that money can buy.
Best of all, not only are our headers of the highest quality stainless (yes, there are "cheap" grades of stainless that are not T-304), but all the choices of canisters are also constructed of twin polished stainless endcaps, a stainless steel interior tube, and again even the band which wraps around the canister is polished stainless steel. No coating, seal or wrap is going to last like T-304 stainless, no matter what someone tells you. There are no rivets on the Micron canister sleeves, beware of these as rivets like to rattle loose and cause damage to the canisters very quickly, as well as making re-packing a larger then ever necessary chore. Microns use 3&4 bolt end caps, which makes the task of rebuild or repacking as easy as any company can design. We know that many companies will say that they use "this or that" to secure the rivets, but the bottom line is that these are just layers of fixes to an old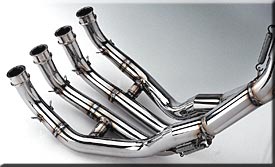 design. The canister sleeve should not be used as a structural member of the canister, and that is that. See if anyone else who has our credentials can say that!
Some companies can make exhausts that work, and some companies can make exhausts that last. Micron offers you the finest in both performance and craftsmanship, meaning that your investment is protected both in terms of maximum horsepower and beautiful quality. Few, if any, companies offer both the wide range of custom choices and un-matched quality, leaving Micron as the exhaust of choice to the serious motorcycle enthusiast.
"Young Sanyo hotshots Chris Vermeulen and Glen Richards were helped considerably by the increased performance given by the Micron exhausts fitted to ALL Sanyo - Honda bikes. Micron proved great on performance, very reliable, no breakages, and together with excellent R&D facilities and race support means Micron continues to be our Number 1 choice."

Russell Savory - Sanyo First National Honda

When it comes to high performance, Micron is the choice to maximize your machines potential, while maintaining the quality and appearance your bike demands.
"Micron proved to be the best for us on the Production Yamaha R1 giving excellent power and torque. Micron's race back up is the best in the country. Together at the 2000 Isle of Man TT we proved to be a winning combination for the second year running."

David Jefferies - 2 Time Isle of Man TT Production Winner